| | |
| --- | --- |
| | VAGS Västerås Amatörgeologiska Sällskap |
---



STEN- OCH SMYCKEMÄSSA

5–6 oktober 2019

Mineral and Gem Show

5–6 October 2019

MINERAALI- JA JALOKIVIMESSUT

5–6 lokakuuta 2019

Mineralien- und Schmucksteinbörse

5–6 Oktober 2019
Välbesökt mässa. Fri parkering. Kaffeteria i anslutning till mässan.
In- och utländska utställare.

Öppettider: Lördag 10.00-17.00 och Söndag 10.00-16.00
Lokal: Westinghouse Arena, klicka här för länk till hitta.se kartor, Kungsängsgatan 8 på Kungsängen-området öster om järnvägen. Det är ca 800m gångväg från centralstationen (se skiss i slutet av web-sidan).
Vid färd på E18, använd utfart 136.

Buss: 2 (grön), 3 (rosa), 5 (gul) eller 22 (svart fyrkant för förortslinje), (busshållplats Kungsängsgatan). För att se tidtabeller och linjekkarta - börja med att klicka här . V v observera att säsongsvisa ändringar förekommer, ändring vanligtvis aug-sept.

Inträde: vuxna 30 kr (Mässlitofilen med utställarkatalog ingår) och barn gratis.

.

Avoinna : lauantaina 10:00 - 17:00 ja sunnuntaina 10:00 - 16:00
Paikka: Westinghouse Arena, paina linkki hitta.se kartor, Kungsängsgatan 8, Kungsängen-alueella rautatieaseman itäpuolella. Kävelytien kautta noin 800 m kävelymatkan päässä (katso piirrosta verkkosivun lopussa).
E18 kautta ajettaessa käytä liittymää 136.

Bussi: 2, 3, 5 tai 22 (bussipysäkki Kungsängsgatan). Aikataulu ja kartta - paina tästä . Kesäaikataulu vaihtuu tavallisesti Elo-Syyskuussa. Västeråsin uusi bussiliikenne yleistä tietoa, katso ( paina tästä )

Västerås on noin 110 km Tukholmasta länteen , katso karttaa sivun lopussa .

Sisään 30 SEK, lapset ilmaiseksi.

.

Popular show. No parking fee. Caffeteria in the premises.
Domestic and foreign exhibitors.

Open: Saturday 10.00-17.00 and Sunday 10.00-16.00
Place: Westinghouse Arena, click for link to hitta.se maps. Kungsängsgatan 8 at the Kungsängen area east of the railway. It is approx. an 800m walk from the central railway station (see drawing at the end of this web-page ).
If by car on the European road E18, use exit 136.

Bus: 2, 3, 5 or 22, (bus stop Kungsängsgatan). To see timetables and route map (in Swedish only)- click here for a start . Please note seasonal tables, normaly there is a change Aug-Sept. To see general information about the Bus Net-Work: click here .
Location of city Västerås in Sweden, See map below

Entrance fee: adult 30 SEK (includes a show catalouge) and children free.

.

Populäre Börse. Kostenloses Parken. Cafeteria in der Halle. Schwedischen und ausländischen Ausstellern.

Öffnungszeiten : Samstag von 10.00 bis 17.00 Uhr und Sonntag von 10.00 bis 16.00 Uhr
Lokal: Westinghouse Arena , Link zu hitta.se maps -hier klicken. Die Adresse ist Kungsängsgatan 8. Die Halle liegt östlich der Eisenbahn und der Fusswegsabstand vom Hauptbahnhof ist ca. 800 m (siehe Zeichnung am Ende dieser Seite).

Wenn mit dem Auto auf dem Autobahn E18, Ausfahrt 136 benutzen.

Autobus Nr. 2 (grüne Linie), 3 (rosa Linie), 5 (gelbe Linie) oder 22 (schwarzes Viereck) (Haltestelle Kungsängsgatan). Um Fahrpläne und Linienkarten (nur auf Schwedisch) zu sehen, - Klicken Sie hier für einen Start . Bitte beachten Sie saisonale Fahrpläne, normalerweise gibt es eine Änderung in August-September.

Die Lage der Stadt Västerås in Schweden können Sie in der Karte unten sehen .

Eintritt: Erwachsene 30 Kronen (einschließlich Börsenkatalog) und Kinder frei.

.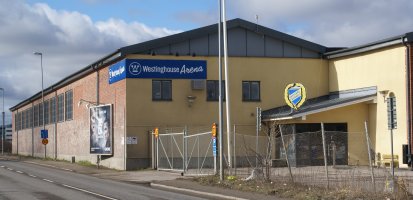 Här är publikingången/ Messut sisäänkäynti/ The Show entrance/ Eingang für das Publikum.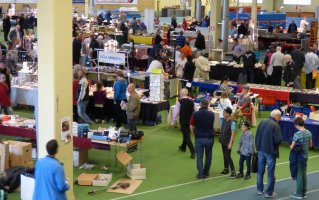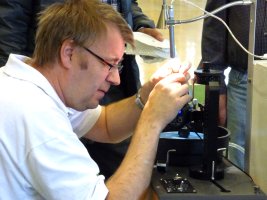 Vår mässa 2014/ Kivi- ja mineraalimessut 2014/ The show in year 2014/ Unsere Börse 2014.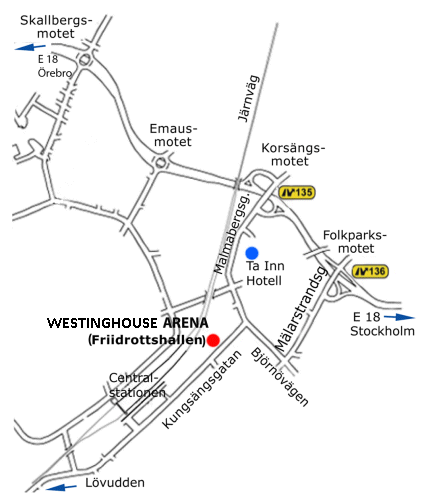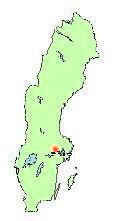 The red dot shows the location of city Västerås in Sweden
---
Sidan Uppdaterad 2019-05-24
---
---
© 2001-2020 Text och form Allan Ekberg (e-post: pusstirabi at gmail punkt com); Anders Högrelius (e-post: ahs at hogrelius punkt nu)